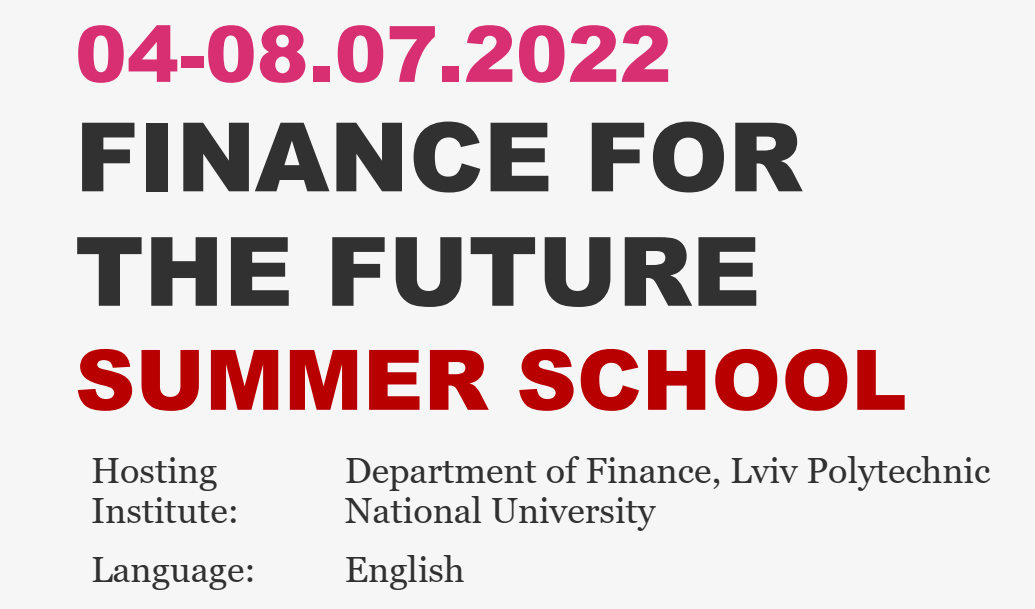 For the first time the Department of Finance, the Institute of Economics and Management, Lviv Polytechnic, organizes the Finance for the Future International Summer English School and invites everyone – 9-11 grades schoolchildren, students and adults regardless of specialty – to join the event. The School will take place online on the Zoom platform on July 4-8, 2022.
During the Summer School, lectures are planned in the following areas:
smart investment and savings;
financial innovations;
modern financial markets;
digital banking;
prevention of money laundering and fraud.
Lectures will be given by highly qualified academics, combining theoretical positions and practical tasks.
Participation in the Summer School is free and involves obtaining a certificate for 1 ECTS (30 hours).
The registration deadline is June 27, 2022. All registered participants will receive an invitation.
For additional information, please, contact us at fin.sum.school@gmail.com or call +380979387605 (Marta Lyvdar).
When: Mon, 07/04/2022 - 10:00 - Fri, 07/08/2022 - 12:00
Venue: Online
Organizer: Department of Finance, Lviv Polytechnic National University
Important Dates: Mon, 07/04/2022 - 10:00, Beginning